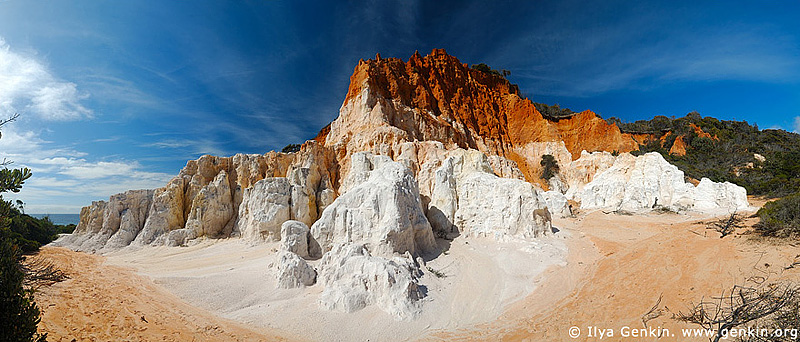 The Pinnacles is a favourite location in north Ben Boyd National Park. The Pinnacles is a formation which dates back some 65 million years when the soft white sand and its cap of red clay laid the foundations for the subsequent feature which now exists. Viewers can appreciate the beauty of the formation from the opposing cliff or walking right between the walls.
Made this panorama almost 1.5 years ago from 16 wide-angle images.
If you want to get there then go to the Sapphire Coast, NSW. The turn to the Pinnacles is about 10 minutes drive north from Eden. Follow road signs. The road is unsealed but quite well maintained. Park at the Pinnacles car park. Then you need to do a 30 mins easy grade walk. You've got two options:
1. Follow the path to the pinnacles and you will get to the lookout on the opposite cliff.
2. Follow the path to the beach, turn right, walk along the beach for about 200 meters and you will get to the down of the Pinnacles. However due to the recent information the beach access from the Pinnacles walk is now closed until further notice due to track maintenance.
The Pinnacles, Ben Boyd NP on Google Maps.
More images: Gallery of The Pinnacles, Ben Boyd National Park Stock Images – Landscape Stock Photography.
Ilya Genkin is a Sydney, Australia photographer whose subjects include the Pacific coast, Australian outback and deserts, rainforests, lakes and rivers, urban landscapes, night photography, and more.
Blog | About | Buy Images | Flickr | Twitter | Facebook | Google+ | 500px.com | LinkedIn | Email

Click here for Information & Pricing on larger paper, canvas, or metallic prints. Click here for License Information & Pricing for commercial and editorial uses. For complete purchase options, please contact Ilya Genkin directly.