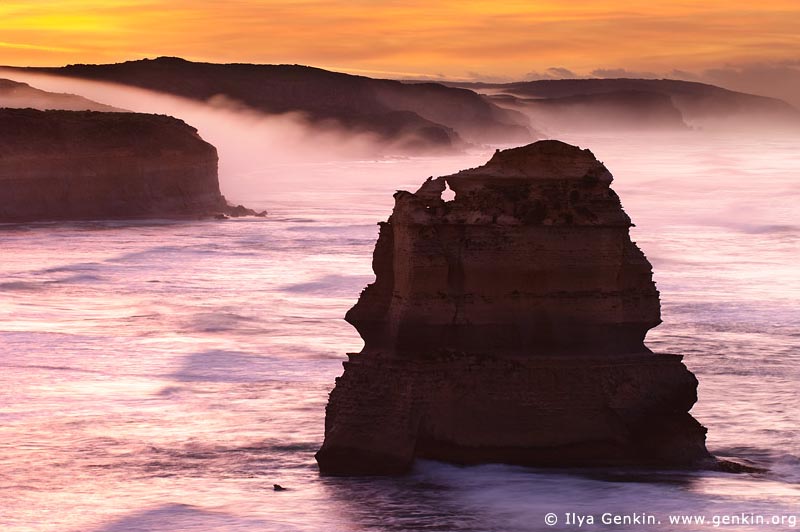 For those who may not know, The Twelve Apostles is a collection of limestone stacks off the shore of the Port Campbell National Park, by the Great Ocean Road in Victoria, Australia. It is breathtaking example of nature at work. Free standing rock stacks that are pounded by waves from the southern oceans. It is the differential rates of erosion along the coast with alternate bands of hard and soft rocks which results in an irregular coastline.
This summer nights at the Twelve Apostles were quite cold (for the summer) and humid and every morning I saw very think fog in lowlands. I spent a few days there but only once I was lucky enough to capture how the mist is flowing down from the cliffs into the ocean near the Twelve Apostles. The view was just spectacular! Rising sun reflected from clouds painted everything in red, yellow and magenta. The fog was curling and slowly streaming down into the sea. I made a couple of shots with different exposure – to capture the fog movement and to blur the movement. Later I selected the photo with fog curls.
See a little gallery of all the images shot here: Gallery of The Twelve Apostles Images – Landscape Stock Photography.
Ilya Genkin is a Sydney, Australia photographer whose subjects include the Pacific coast, Australian outback and deserts, rainforests, lakes and rivers, urban landscapes, night photography, and more.
Blog | About | Buy Images | Flickr | Twitter | Facebook | Google+ | 500px.com | LinkedIn | Email

Click here for Information & Pricing on larger paper, canvas, or metallic prints. Click here for License Information & Pricing for commercial and editorial uses. For complete purchase options, please contact Ilya Genkin directly.