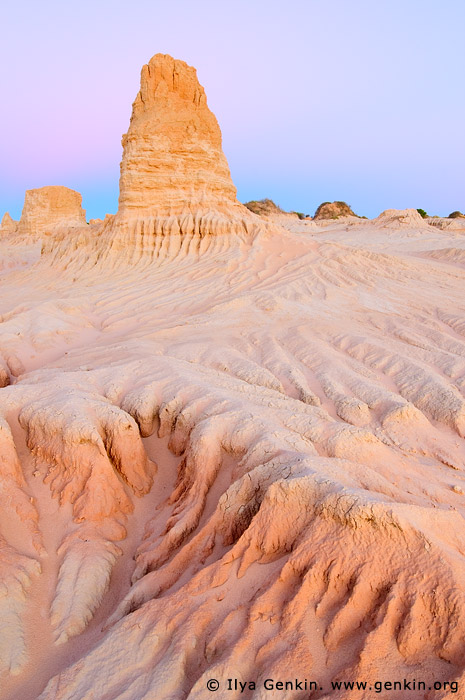 Mungo National Park is an isolated national park in New South Wales outback, Australia. Located in about 1000 km west of Sydney. It is part of the Willandra Lakes Region, a World Heritage Site covering 2,400 square kilometres, and incorporating seventeen dry lakes.
The central feature of Mungo National Park is Lake Mungo, the second largest of the ancient dry lakes. It dried up around 14,000 years ago, and today a great crescent-shaped dune (lunette), called the Walls of China, stretches along the eastern shore of the lakebed. These dunes, of mud and sand, are continually eroding by wind and water. Left behind is a fragile landscape of crinkled, fluted outcrops and shifting sand, which changes colour from a daytime khaki to the vibrant yellows, oranges, and deep wine reds of sun set.
Mungo National Park is most significant for the archeological remains which have been discovered there. The remains of Mungo Man, the oldest human remains discovered in Australia, and Mungo Lady, the oldest known human to have been ritually cremated, were both discovered within the park. They were buried on the shore of Lake Mungo, beneath the Walls of China.
The best time of the day to see the Walls of China is pre-sunset hours, sunset and after sunset. So if you want to see the Mungo National Park and the Wall of China at their best then I can recommend to stay there for at least one night (camping, Mungo Lodge or Shearers Quarters).
More images: Gallery of Mungo National Park Stock Images – Landscape Stock Photography.
Ilya Genkin is a Sydney, Australia photographer whose subjects include the Pacific coast, Australian outback and deserts, rainforests, lakes and rivers, urban landscapes, night photography, and more.
Blog | About | Buy Images | Flickr | Twitter | Facebook | Google+ | 500px.com | LinkedIn | Email

Click here for Information & Pricing on larger paper, canvas, or metallic prints. Click here for License Information & Pricing for commercial and editorial uses. For complete purchase options, please contact Ilya Genkin directly.