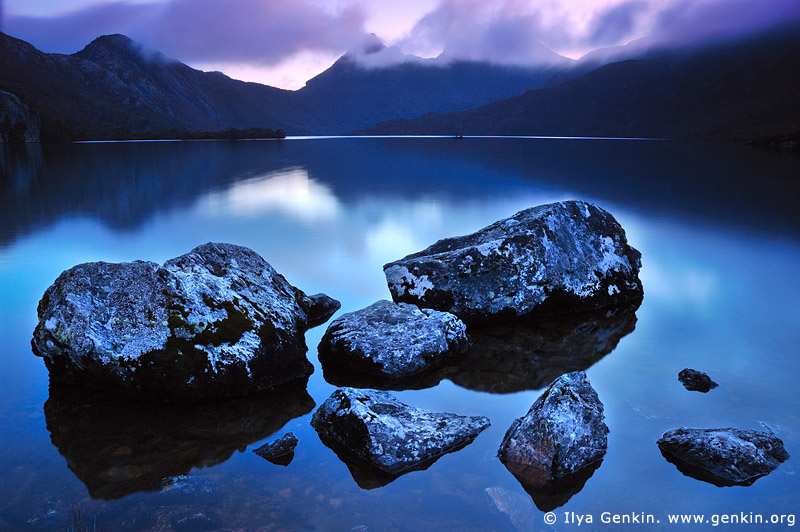 Shot this image during my "Big Tasmanian Trip" in January 2007. In two weeks I drove about 4000km around Tasmania (counting that it's about 400km in "diameter"). The weather was very bad for photography – bright sun during shooting waterfalls and heavy clouds when I needed sun. I spent two or three days waiting for the light on Lake Dove in Cradle Mountain National Park. Finally on the third day I got very nice light after sun went down below horizon. Tasmania is just amazing! Want to go back and spend more time three shooting Tasmanian wilderness. Also would like to hike the Overland Track – one of Australia's most famous bush walks, situated in the Cradle Mountain – Lake St Clair National Park.
More images: Lakes, Rivers and Waterways Images Gallery – Landscape Stock Photography.
Ilya Genkin is a Sydney, Australia photographer whose subjects include the Pacific coast, Australian outback and deserts, rainforests, lakes and rivers, urban landscapes, night photography, and more.
Blog | About | Buy Images | Flickr | Twitter | Facebook | Google+ | 500px.com | LinkedIn | Email

Click here for Information & Pricing on larger paper, canvas, or metallic prints. Click here for License Information & Pricing for commercial and editorial uses. For complete purchase options, please contact Ilya Genkin directly.