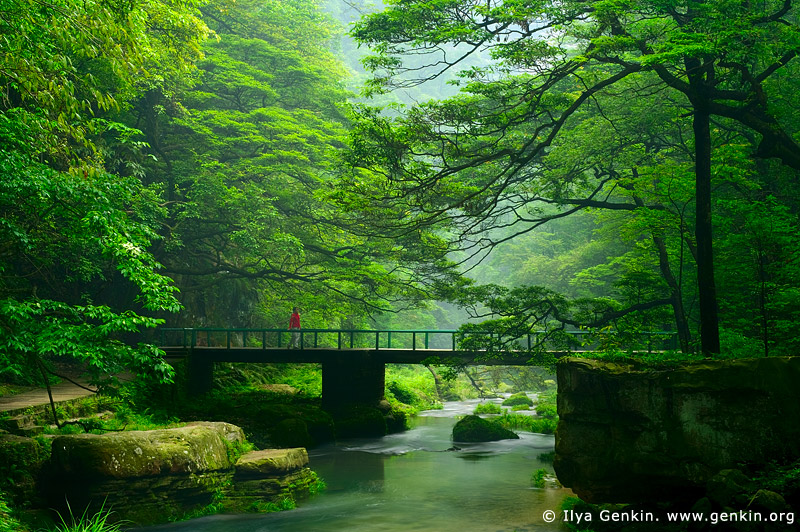 Weather in Zhangjiajie (Wulingyuan) National Park during our trip was bad for photographing anything except rivers, waterfalls and forest. So we spent a great deal of time hiking, walking and photographing in the forests and along magnificent Golden Whip Stream.
Golden Whip Stream (Jinbian Stream) is famous for its pristine water, its verdant mountains, its steep cliffs and its serene valley. As a veritable "paradise" for plants, its pathways are adorned by an abundance of flowers, trees, and grasses. And it is also a kingdom of animals. Golden Whip Stream is named after Jin Bian Crag, its landmark spot, and runs from Laomo Bay to Shui Rao Si Men(water-surrounded gates). The major spots along the stream include Yingbin Crag (greeting crag), Jinbian Crag, Zicao Pool, Qian Li Xiang Hui (long distance meeting between man and woman), Shui Rao Si Men (water-surrounded gates). Golden Whip Stream is a very deep and quiet winding stream where can be seen many green hills and colorful flora and the song of birds can be heard. The 7 kilometer long stream is one of the most charming features of the scenery of Zhangjiajie. It has been called "The Most Beautiful Valley in the World."
More images: Rivers in Zhangjiajie (Wulingyuan) National Park Images Gallery | Lakes, Rivers and Waterways Stock Images | Landscape Stock Photography.
Ilya Genkin is a Sydney, Australia photographer whose subjects include the Pacific coast, Australian outback and deserts, rainforests, lakes and rivers, urban landscapes, night photography, and more.
Blog | About | Buy Images | Flickr | Twitter | Facebook | Google+ | 500px.com | LinkedIn | Email

Click here for Information & Pricing on larger paper, canvas, or metallic prints. Click here for License Information & Pricing for commercial and editorial uses. For complete purchase options, please contact Ilya Genkin directly.