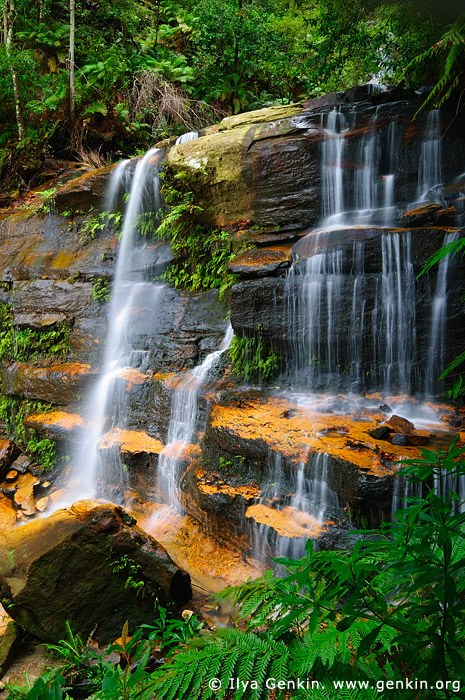 Picture: Flat Rock Falls, Blue Mountains National Park, NSW, Australia
Internet is full of articles explaining Depth of Field theory, Hyperfocal Distance, how to calculate DOF and hyperfocal distance, DOF tables for different lenses and even DOF calculators iPhone. They all are pretty much the same, using the same formulas and the same words. I used to beleive in all that until a while ago I've read a great article "Adjusting Depth of Field" by Harold M. Merklinger, an author of "The Ins and Outs of Focus" and "Focusing the View Camera" books. This article tells about three well-known myths like "one-third rule", focus on hyperfocal distance and DOF tables. He also challenges traditional DOF theory by turning in on its head. No longer is the Circle of Confusion the basis for judging DOF. His indepth analysis of the problem will problably leave you a convert for life.
Be patient and open minded. Most of us find that his ideas sound like they are at odds with what we've been taught, but he provides empirical evidence ("photos") to support his claims. Whether or not you choose to adopt his methods, it's worth reading and it really works for all cameras, landscape shots and wide angle to short telephoto lenses.
(as published in Shutterbug magazine in Oct. 1991 and May – July 1992)
There is one more web page that compliments this article, it is called "Depth of Field Revisited", which you probably would want to read as well.
Ilya Genkin is a Sydney, Australia photographer whose subjects include the Pacific coast, Australian outback and deserts, rainforests, lakes and rivers, urban landscapes, night photography, and more.
Blog | About | Buy Images | Flickr | Twitter | Facebook | Google+ | 500px.com | LinkedIn | Email

Click here for Information & Pricing on larger paper, canvas, or metallic prints. Click here for License Information & Pricing for commercial and editorial uses. For complete purchase options, please contact Ilya Genkin directly.