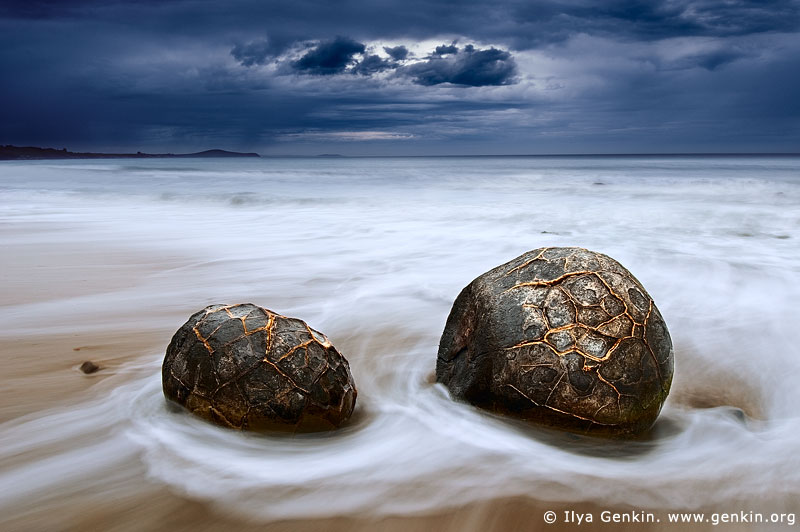 I spent two full days at Moeraki Boulders catching light. Made this shot during a light storm. Unfortunately the clouds were not as dramatic as you could expect from a storm. I was waiting for about 10 minutes until the nice cloud formation perfectly aligned with two boulders and then made this shot. Hopefully you'll like it.
The Moeraki Boulders are located on Koekohe Beach between Moeraki and Hampden, about 75 km north of Dunedin and about 40 km south of Oamaru and accessible by Moeraki Boulders Road followed by a short walk along the beach. You will also find the Moeraki Boulders Cafe, Bar and Gift Shop. Access to the beach from the visitor centre costs $2 per person. You can also drive about 300m south from the main road and use the free public carpark and free access to the beach.
Similar boulders can be found at Shag Point, and the nearby swimming beach of Katiki. Also very similar boulders, which are as much as three metres in diameter and called "Koutu Boulders", lying on the beach between Koutu and Kauwhare points along the south shore of the Hokianga Harbour of Hokianga, North Island, New Zealand. In Hawke's Bay in the North Island, scientists have found that the central core of similar boulders contained perfectly preserved skeletons of turtles, sea snails and extinct reptiles, such as plesiosaurs.
More images: Moeraki Boulders Stock Images | Beaches, Oceans and Seascapes Stock Images | Landscape Stock Photography.
Ilya Genkin is a Sydney, Australia photographer whose subjects include the Pacific coast, Australian outback and deserts, rainforests, lakes and rivers, urban landscapes, night photography, and more.
Blog | About | Buy Images | Flickr | Twitter | Facebook | Google+ | 500px.com | LinkedIn | Email

Click here for Information & Pricing on larger paper, canvas, or metallic prints. Click here for License Information & Pricing for commercial and editorial uses. For complete purchase options, please contact Ilya Genkin directly.