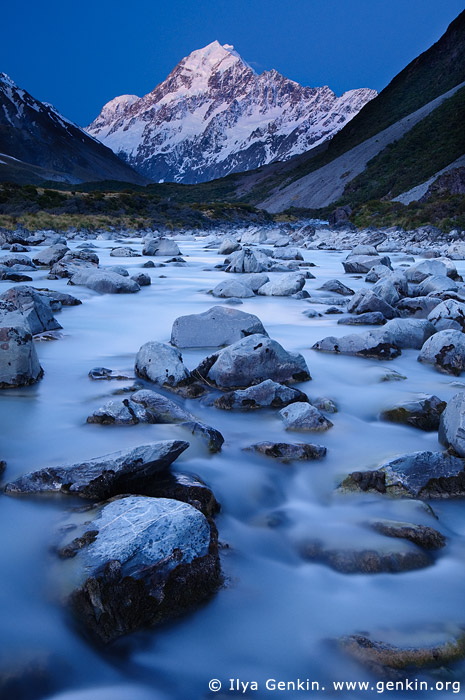 Hooker Glacier Valley in Southern Alps that lies in Mackenzie Region is probably my favourite place on the South Island of New Zealand. I don't know why. May be because it is very familiar to the Left Talgar River valley in the Norther Tien-Shan mountain range where I hiked great number of times. I felt myself almost like I returned back to Tien-Shan and we were doing multi-day hike. Still miss high mountains here in Australia. Hiking in bush is good and I'm regularly doing that but it still quite different from hiking in mountains.
PS. Here you can fine a number of photos (they are not mine) from Left Talgar River valley. Just scroll down russian text a little bit.
More images: Aoraki/Mount Cook Stock Images | Alpine and Mountain Landscapes Stock Images | Landscape Stock Photography.
Ilya Genkin is a Sydney, Australia photographer whose subjects include the Pacific coast, Australian outback and deserts, rainforests, lakes and rivers, urban landscapes, night photography, and more.
Blog | About | Buy Images | Flickr | Twitter | Facebook | Google+ | 500px.com | LinkedIn | Email

Click here for Information & Pricing on larger paper, canvas, or metallic prints. Click here for License Information & Pricing for commercial and editorial uses. For complete purchase options, please contact Ilya Genkin directly.