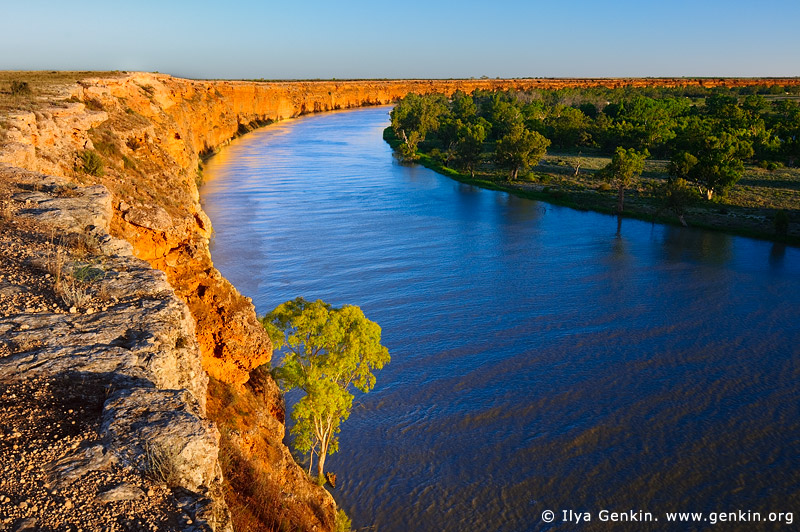 The Murray River is Australia's longest river. The Murray rises in the Australian Alps, draining the western side of Australia's highest mountains and, for most of its length, meanders across Australia's inland plains, forming the border between New South Wales and Victoria as it flows to the northwest, before turning south for its final 500 kilometres (310 mi) or so into South Australia, reaching the ocean at Lake Alexandrina.
Despite we travelled a lot in New South Wales, Victoria and South Australia we didn't see the Murray River too much except a few campings on the shore near Mildura. So, after the Mungo National park we decided to travel along the Murray River. I must say there are very beautiful palaces there. Unfortunately there is one typical problem – if you are there during midday when the Sun is high then everything looks quite boring. But at sunrise or sunset everything looks really nice and I scouted a few nice places for sunrise/sunset photographic sessions. Unfortunately due to limited time I shoot only at the Big Bend. The Big Bend in South Australia is the longest single bend in the Murray River. It's located between Swan Reach and Nildottie towns. The area is known for its spectacular riverside cliffs, which are the tallest along the Murray River. The Big Bend is also a favourite spot for artists and photographers.
The sky was cloudless and strong wind was trying to blow away my heavy tripod but I managed to make a nice image when the wind dropped a little bit for a few seconds. Anyway I'll definitely return to the Murray River soon as there are plenty of photographic opportunities.
More images: Murray River Stock Images | Lakes, Rivers and Waterways Landscapes Images Gallery | Landscapes Stock Photography.
Ilya Genkin is a Sydney, Australia photographer whose subjects include the Pacific coast, Australian outback and deserts, rainforests, lakes and rivers, urban landscapes, night photography, and more.
Blog | About | Buy Images | Flickr | Twitter | Facebook | Google+ | 500px.com | LinkedIn | Email

Click here for Information & Pricing on larger paper, canvas, or metallic prints. Click here for License Information & Pricing for commercial and editorial uses. For complete purchase options, please contact Ilya Genkin directly.