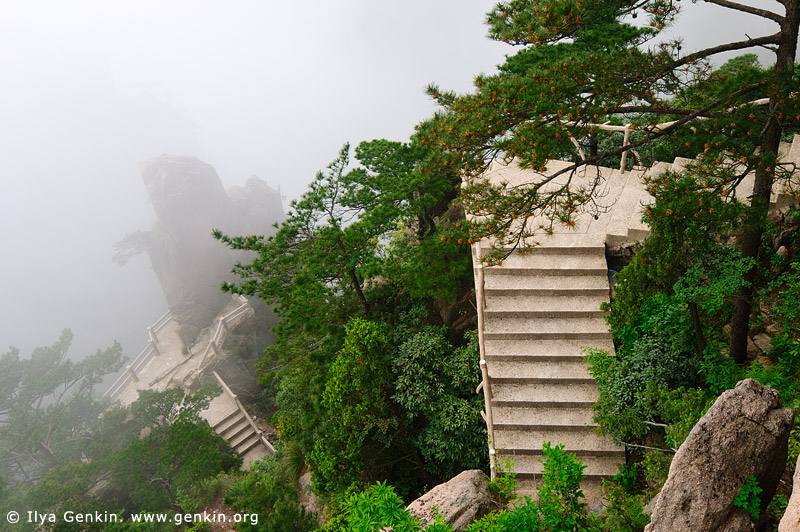 The West Sea Grand Canyon, also known as Xihai Grand Canyon, is the most beautiful and untouched scenic zone of Huangshan Mountain and a perfect destination for avid hikers. Xihai Grand Canyon is a newly-developed scenic area open to public on May, 2001. Covering the most prime scenery of Xihai Scenic Area (Western part of Huangshan Scenic Area), it starts at Cloud-dispelling Pavilion, linking White Cloud Area at Fairy-walking Bridge, and creating a breath-taking circular sightseeing route. The Xihai Grand Canyon is renowned for its mysterious landscape with flowing clouds, ancient pine trees, steep mountains, and unique rock formations. This seeming fairyland is nick-named "the Magic Scenic Area". Pine trees dating back hundreds of years sprout forth from rock crevices and grow in all kinds of shapes and sizes. Because the soil is so rocky the trees are not tall and straight like most forests. Over time wind and climate have transformed these pines into living sculptures. The rock formations have also taken on bizarre forms. Due to millennia of wind and rain, the rocks of the canyon have also been distorted into a variety of intriguing shapes. Some of the more famous formations include: Dog Watching Sky, Lady Playing Piano, Upside-down Boot and Man Walking on Stilts. This very secluded and fantastic scenic area known as the Grand Canyon of the West Sea is becoming more and more popular. It's a must see destination for tourists.
More images: Huangshan Mountains Stock Images | Alpine and Mountain Landscapes Stock Images | Landscape Stock Photography.
Ilya Genkin is a Sydney, Australia photographer whose subjects include the Pacific coast, Australian outback and deserts, rainforests, lakes and rivers, urban landscapes, night photography, and more.
Blog | About | Buy Images | Flickr | Twitter | Facebook | Google+ | 500px.com | LinkedIn | Email

Click here for Information & Pricing on larger paper, canvas, or metallic prints. Click here for License Information & Pricing for commercial and editorial uses. For complete purchase options, please contact Ilya Genkin directly.