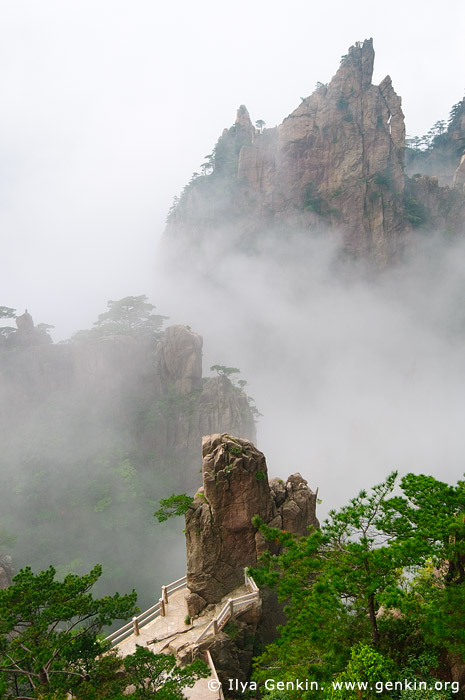 Finally I've got almost right tempo of processing photos. I still have a lot of photos from Kyoto, Osaka and Matsumoto in Japan and many photos from Huangshan, Longsheng (Longji), Yangshuo and Zhangjiajie in China to process. Ah!.. and also from the last trip to South Australia and Victoria as well. I just do not have enough time. Need 36 hours per day. Or may be I just need to implement GTD.
Anyway…
Shot this photos in Xihai Grand Canyon (West Sea Grand Canyon) in June last year during my trip to China. Surrounded by the hills in the Xihai Area, the Xihai Grand Canyon is the best place to view rock formations of Huangshan Mountain. A hiking tour into this canyon follows stone steps, mountain roads, tunnels, and bridges. As the most beautiful and deepest part of Huangshan Scenic Spot, the Xihai Grand Canyon has never failed to inspire visitors. Quite often clouds are flowing among the hills which make the canyon looks magic. The hiking route starts high in mountains and then hikers travel downhill deeper into the canyon. Once reaching the lowest point of the route, tourists will then begin to ascend until reaching the exit. Hiking the Xihai Grand Canyon is a bit of an adventure and must see for every visitor in Huangshan. I did this 9.6 kilometers long hike through the Xihai Grand Canyon with dislocated foot. It was terrible and difficult but I never regret about the decision to hike this route when my foot wasn't in a good condition. I really want to go back. Now in winter.
More images: Huangshan Mountains, China Stock Images | Alpine and Mountain Landscapes Stock Images | Landscape Stock Photography
Ilya Genkin is a Sydney, Australia photographer whose subjects include the Pacific coast, Australian outback and deserts, rainforests, lakes and rivers, urban landscapes, night photography, and more.
Blog | About | Buy Images | Flickr | Twitter | Facebook | Google+ | 500px.com | LinkedIn | Email

Click here for Information & Pricing on larger paper, canvas, or metallic prints. Click here for License Information & Pricing for commercial and editorial uses. For complete purchase options, please contact Ilya Genkin directly.