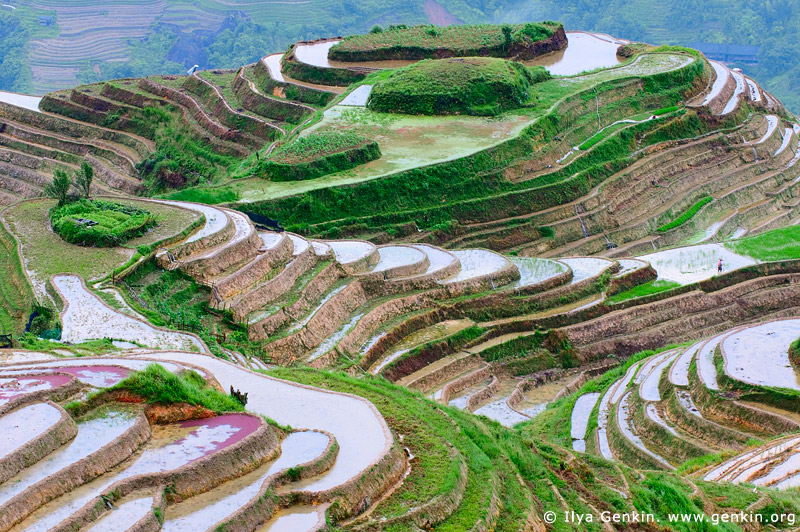 Longji Rice Terraces, Longsheng, Guangxi, China
Together with Hani rice terraces in China and Banaue rice terraces in Philippines, the rice terraces in Longsheng country in China are often considered as the most beautiful terraces in the world. Sometimes they are called "The champion of the terrace world". They've got the name Longji Rice Terraces which literally means "Dragon's Backbone". They received their name because the rice terraces resemble a dragon's scales, while the summit of the mountain range looks like the backbone of the dragon. Visitors standing on the top of the mountain can see the dragon's backbone twisting off into the distance. Well… I didn't see that, but anyway the view was magnificent. I was in China between seasons which wasn't too good for photography, but it was total success with the terraces. In spring the Longsheng terraced fields are irrigated and the irrigated fields look like layers of bright mirrors among green mountains. In summer a green sea of paddy rice lures you deeply. And the terrace filed greets you with the golden blankets of the ripe rice in fall. Snowed terrace field in winter is also awesome. So there is no one single best time to visit Longji rice fields in Longsheng. At any time you you will be rewarded with absolutely stunning landscape.
More images: Longsheng (Longji) Rice Terraces, China Stock Images | Country and Rural Landscape Stock Images | Landscape Stock Photography
Ilya Genkin is a Sydney, Australia photographer whose subjects include the Pacific coast, Australian outback and deserts, rainforests, lakes and rivers, urban landscapes, night photography, and more.
Blog | About | Buy Images | Flickr | Twitter | Facebook | Google+ | 500px.com | LinkedIn | Email

Click here for Information & Pricing on larger paper, canvas, or metallic prints. Click here for License Information & Pricing for commercial and editorial uses. For complete purchase options, please contact Ilya Genkin directly.