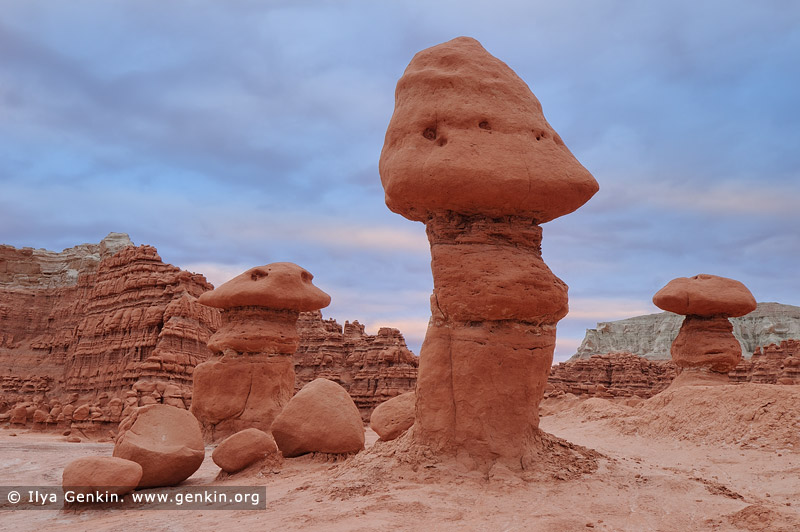 Sandstone Hoodoos at Sunset, Goblin Valley State Park, Utah, USA
Goblin Valley is a state park of Utah, USA. Its eminent feature is its thousands of hoodoos and hoodoo rocks, which are formations of mushroom-shaped rock pinnacles, some as high as several meters. The distinct shape of these rocks comes from an erosion-resistant layer of rock atop softer sandstone. Goblin Valley is one of Utah's most popular parks. It offers incredible scenery and great opportunity for hiking and camping. Goblin Valley includes an area where soft sandstone has eroded into interesting shapes, somewhat resembling goblins. In some spots the rock formations are close together and produce a maze-like playground ideal for family explorations. Many people think the park landscape has a surreal appearance. A Hollywood movie, Galaxy Quest, was filmed at Goblin Valley State Park because of its unearthly scenery. Many serious photographers come here to get shots of the goblins during the late evening or early morning hours, when shadows provide contrast to the sun-bathed rock.
More images: Goblin Valley State Park, Utah, USA Stock Images | Desert and Outback Landscape Stock Images | Landscape Stock Photography
Ilya Genkin is a Sydney, Australia photographer whose subjects include the Pacific coast, Australian outback and deserts, rainforests, lakes and rivers, urban landscapes, night photography, and more.
Blog | About | Buy Images | Flickr | Twitter | Facebook | Google+ | 500px.com | LinkedIn | Email

Click here for Information & Pricing on larger paper, canvas, or metallic prints. Click here for License Information & Pricing for commercial and editorial uses. For complete purchase options, please contact Ilya Genkin directly.