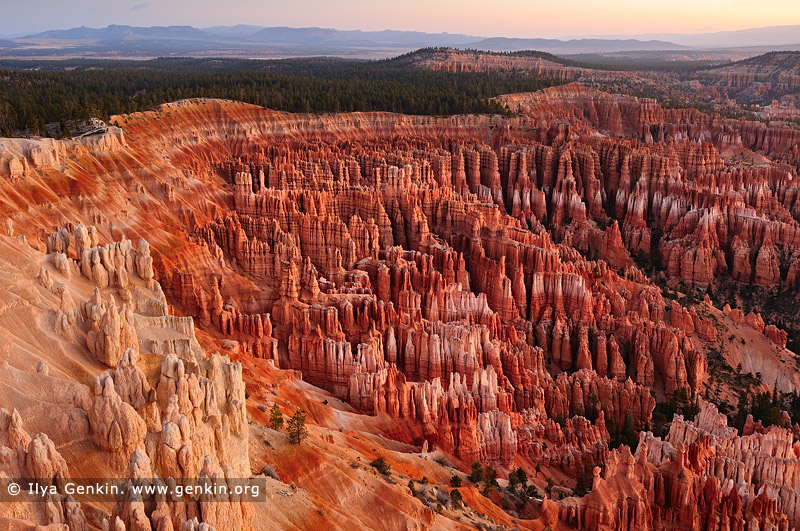 Bryce Amphitheater at Sunrise, Inspiration Point, Bryce Canyon National Park, Utah, USA
Bryce Canyon National Park is a national park located in southwestern Utah in the United States. The major feature of the park is Bryce Canyon which, despite its name, is not a canyon but a giant natural amphitheater created by erosion along the eastern side of the Paunsaugunt Plateau. Bryce is distinctive due to geological structures called hoodoos, formed by wind, water, and ice erosion of the river and lake bed sedimentary rocks. The red, orange, and white colors of the rocks provide spectacular views for park visitors. Bryce sits at a much higher elevation than nearby Zion National Park. The rim at Bryce varies from 8,000 to 9,000 feet (2,400 to 2,700 m).
The Bryce Canyon, famous for its worldly unique geology, consists of a series of horseshoe-shaped amphitheaters carved from the eastern edge of the Paunsaugunt Plateau. The erosional force of frost-wedging and the dissolving power of rainwater have shaped the colorful limestone rock of the Claron Formation into bizarre shapes, including slot canyons, windows, fins, and spires called "hoodoos". The Bryce Canyon is filled with incredible red rock formations. From brilliant red sandstone hoodoos and mazes to open amphitheaters and lush green forests, Bryce Canyon National Park inspires awe and appreciation for one of Mother Nature's greatest miracles. The wonder of Bryce can be experienced by horseback ride, guided tour or a solitary hike. Red Canyon, located along Highway 12 just west of the park, also offers Bryce-like red-rock scenery. Highway 12 ranks as one of the most scenic byways in America and offers incredible vistas along its entire length.
More images: Bryce Canyon National Park, Utah, USA Stock Images | Desert and Outback Landscape Stock Images | Landscape Stock Photography
Ilya Genkin is a Sydney, Australia photographer whose subjects include the Pacific coast, Australian outback and deserts, rainforests, lakes and rivers, urban landscapes, night photography, and more.
Blog | About | Buy Images | Flickr | Twitter | Facebook | Google+ | 500px.com | LinkedIn | Email

Click here for Information & Pricing on larger paper, canvas, or metallic prints. Click here for License Information & Pricing for commercial and editorial uses. For complete purchase options, please contact Ilya Genkin directly.