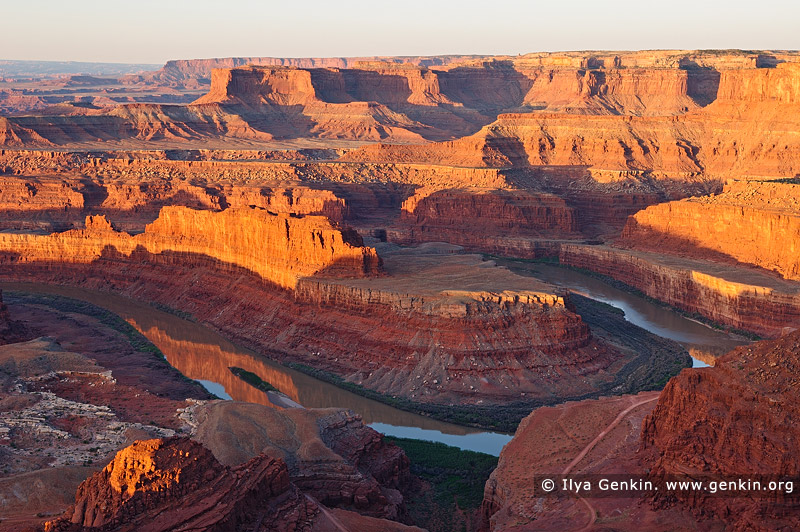 Dead Horse Point at Sunrise, Dead Horse Point State Park, Utah, USA
Dead Horse Point State Park is a state park of Utah, USA, featuring a dramatic overlook of the Colorado River and Canyonlands National Park. The park covers 5,362 acres (21.70 km2) of high desert at an altitude of 5,900 feet (1,800 m). Dead Horse Point was named by early Mormon pioneers for a rock formation at the base of the plateau. It is clearly visible from the main overlook and looks like a dead white horse lying on its side. The plateau is surrounded by sheer cliffs 2,000 feet (610 m) high with only a narrow neck of land 30 yards (27 m) wide connecting the mesa to the main plateau.
More images: Dead Horse Point State Park, Utah, USA Stock Images | Desert and Outback Landscape Stock Images | Landscape Stock Photography
Ilya Genkin is a Sydney, Australia photographer whose subjects include the Pacific coast, Australian outback and deserts, rainforests, lakes and rivers, urban landscapes, night photography, and more.
Blog | About | Buy Images | Flickr | Twitter | Facebook | Google+ | 500px.com | LinkedIn | Email

Click here for Information & Pricing on larger paper, canvas, or metallic prints. Click here for License Information & Pricing for commercial and editorial uses. For complete purchase options, please contact Ilya Genkin directly.