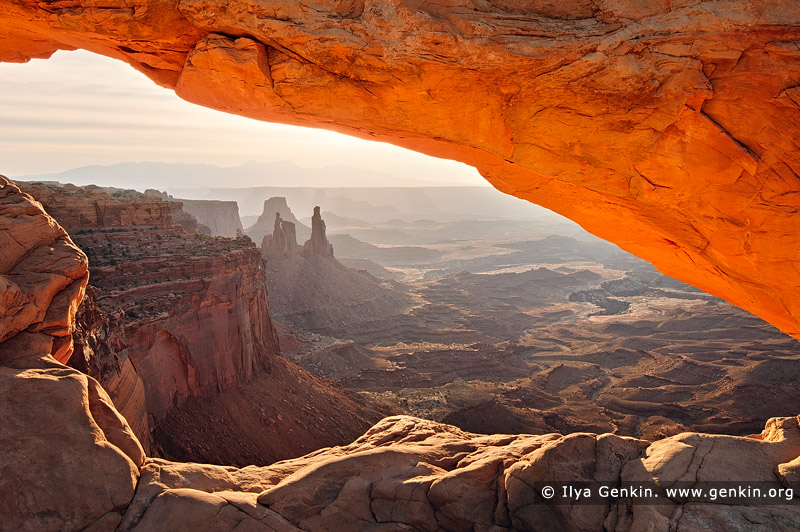 Mesa Arch at Sunrise, Island in the Sky, Canyonlands National Park, Utah, USA
Mesa Arch is located in the Island in the Sky district of Canyonlands National Park west of Moab, Utah. Canyonlands National Park is about 32 miles from Moab, Utah. Besides being an attractive arch by itself the views through Mesa Arch are nothing short of spectacular. Mesa Arch is one of the must see locations within Canyonlands National Park. The arch frames the distant landscape like a giant picture window. If you look into the deep canyons off in the distance you might be able to get a glimpse of the Colorado River as it flows on toward its confluence with the Green River and into Cataract Canyon. Looking more to the east through Mesa Arch you can see several pinnacles, buttes and the La Sal Mountains. Mesa Arch is a classic "I must have this shot in my photography portfolio" shot.
More images: Canyonlands National Park, Utah, USA Stock Images | Desert and Outback Landscape Stock Images | Landscape Stock Photography
Ilya Genkin is a Sydney, Australia photographer whose subjects include the Pacific coast, Australian outback and deserts, rainforests, lakes and rivers, urban landscapes, night photography, and more.
Blog | About | Buy Images | Flickr | Twitter | Facebook | Google+ | 500px.com | LinkedIn | Email

Click here for Information & Pricing on larger paper, canvas, or metallic prints. Click here for License Information & Pricing for commercial and editorial uses. For complete purchase options, please contact Ilya Genkin directly.