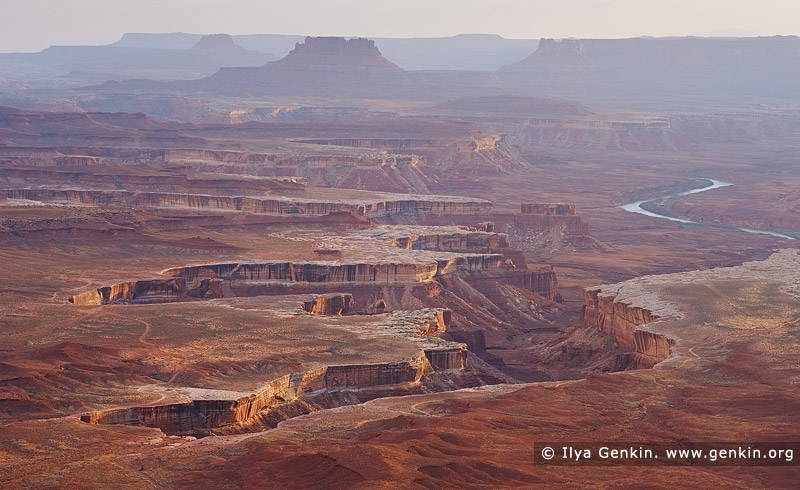 The White Rim and Green River at Sunset, Island in the Sky, Canyonlands National Park, Utah, USA
The White Rim is a wide flat plateau halfway in height between the Island in the Sky and the Green/Colorado rivers, formed by a layer of white sandstone much more resistant to erosion than the strata above or below. A 100 mile track built by uranium prospectors after World War 2 winds along the edge of the rim; driving the full distance is said to take 2 days and a few parts require 4WD even though much is level and quite easy to navigate. A reservations system operates to regulate the limited number of primitive camp sites en route. This was the road featured at the end of the film Thelma and Louise, when the heroines drove over the edge, apparently thinking that they had found the Grand Canyon. Access is by the Mineral Bottom Road in the west and the Shafer Trail in the east. The best viewpoint of the rim, and of Monument Basin, is by the short White Rim Overlook Trail.
More images: Canyonlands National Park, Utah, USA Stock Images | Desert and Outback Landscape Stock Images | Landscape Stock Photography
Ilya Genkin is a Sydney, Australia photographer whose subjects include the Pacific coast, Australian outback and deserts, rainforests, lakes and rivers, urban landscapes, night photography, and more.
Blog | About | Buy Images | Flickr | Twitter | Facebook | Google+ | 500px.com | LinkedIn | Email

Click here for Information & Pricing on larger paper, canvas, or metallic prints. Click here for License Information & Pricing for commercial and editorial uses. For complete purchase options, please contact Ilya Genkin directly.