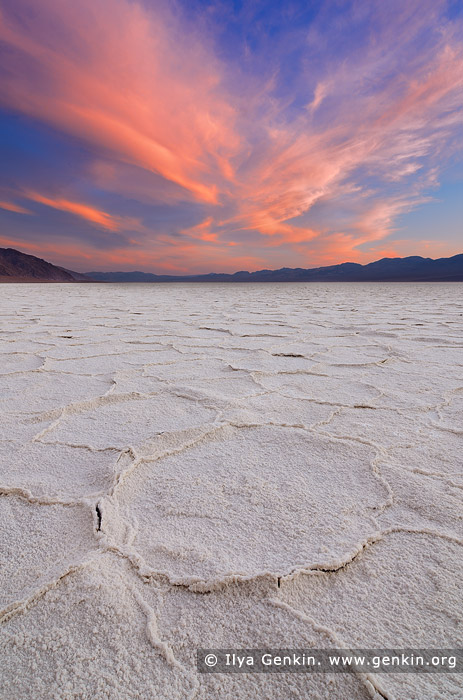 Sunset at Badwater, Death Valley, California, USA
Badwater is a salt flat that is beneath the face of the Black Mountains that contains the lowest elevation in North America at 86 meters (282 ft) below sea level. The massive expanse of white is made up of almost pure table salt. This pan was first created by the drying-up of 30-foot (10 m) deep Recent Lake 2000 to 3000 years ago. Unlike at the Devil's Golf Course, significant rainstorms flood Badwater, covering the salt pan with a thin sheet of standing water. Each newly-formed lake doesn't last long though, because the 1.9 inch (48 mm) average rainfall is overwhelmed by a 150-inch (3800 mm) annual evaporation rate. This, the nation's greatest evaporation potential, means that even a 12-foot (3.7 m) deep, 30 mile (50 km) long lake would dry up in a single year. While flooded, some of the salt is dissolved, then is redeposited as clean, sparkling crystals when the water evaporates. The site itself consists of a small spring-fed pool of "bad water" next to the road in a sink; the accumulated salts of the surrounding basin make it undrinkable, thus giving it the name. The pool does have animal and plant life, including pickleweed, aquatic insects, and the Badwater snail.
More images: Death Valley National Park, CA, USA Stock Images | Desert and Outback Landscape Stock Images | Landscape Stock Photography
Ilya Genkin is a Sydney, Australia photographer whose subjects include the Pacific coast, Australian outback and deserts, rainforests, lakes and rivers, urban landscapes, night photography, and more.
Blog | About | Buy Images | Flickr | Twitter | Facebook | Google+ | 500px.com | LinkedIn | Email

Click here for Information & Pricing on larger paper, canvas, or metallic prints. Click here for License Information & Pricing for commercial and editorial uses. For complete purchase options, please contact Ilya Genkin directly.