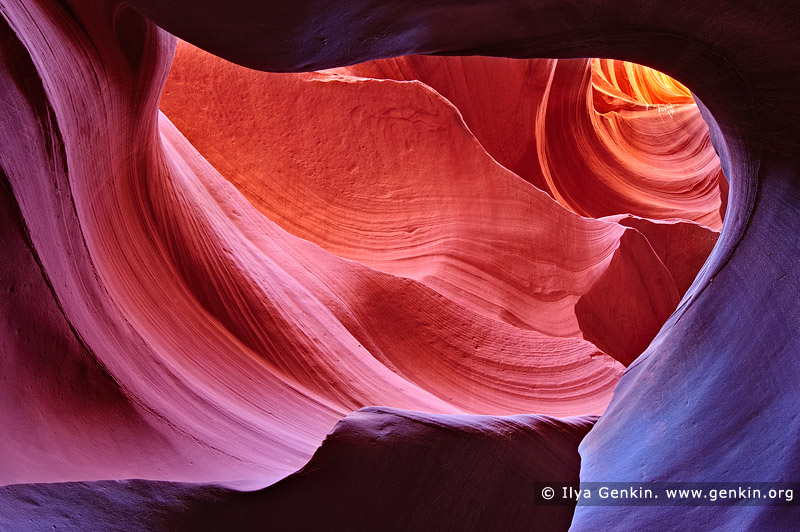 Colors of the Lower Antelope Canyon, Navajo Tribal Park, Page, Arizona, USA
Antelope Canyon is the most-visited and most-photographed slot canyon in the American Southwest. It is located on Navajo land near Page, just outside Glen Canyon National Recreation Area and close to AZ 98 a few miles east of town (at milepost 299). Antelope Canyon includes two separate, photogenic slot canyon sections, referred to individually as Upper Antelope Canyon or The Crack; and Lower Antelope Canyon or The Corkscrew. The Navajo name for Upper Antelope Canyon is Tse bighanilini, which means "the place where water runs through rocks." Lower Antelope Canyon is Hazdistazi (advertised as "Hasdestwazi" by the Navajo Parks and Recreation Department), or "spiral rock arches." Both are located within the LeChee Chapter of the Navajo Nation.
More images: Antelope Canyon, AZ, USA Stock Images | Desert and Outback Landscape Stock Images | Landscape Stock Photography
Ilya Genkin is a Sydney, Australia photographer whose subjects include the Pacific coast, Australian outback and deserts, rainforests, lakes and rivers, urban landscapes, night photography, and more.
Blog | About | Buy Images | Flickr | Twitter | Facebook | Google+ | 500px.com | LinkedIn | Email

Click here for Information & Pricing on larger paper, canvas, or metallic prints. Click here for License Information & Pricing for commercial and editorial uses. For complete purchase options, please contact Ilya Genkin directly.