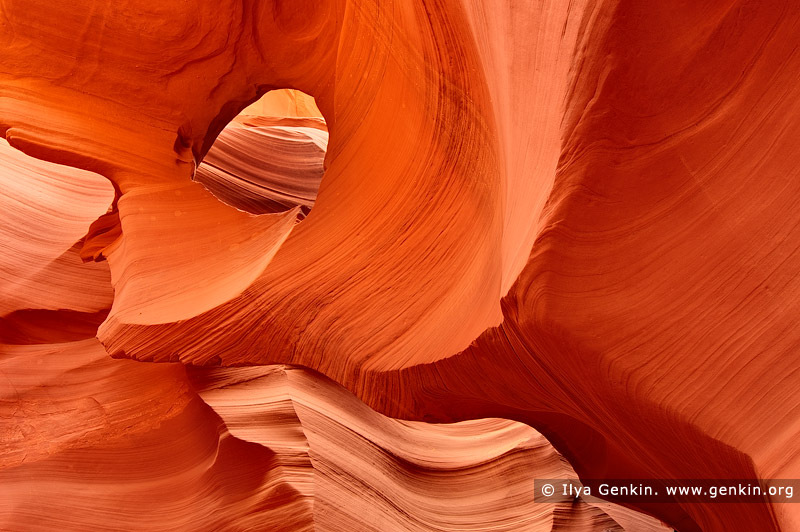 Eye Of The Antelope, Lower Antelope Canyon, Navajo Tribal Park, Page, Arizona, USA
Cascading shapes and curves of red sandstone reflected by natural light reflect a beautiful scenic landscape unique to the Antelope slot canyons of the Colorado Plateau in Navajo Land near Page, Arizona. Carved through iron rich Navajo Sandstone, Antelope Canyon is one the many slot canyons of the Colorado Plateau sculpted by flash floods during the monsoon season of late summer. Though these slot canyons are carved into many different geological layers of sandstone and limestone, it is the Navajo Sandstone, formed from the petrified sand dunes of a large Jurassic desert similar to the Sahara Desert of today, that often become the richest canvas for the flash floods to carve their masterpieces through. These canyons become otherworldly sculptures of stone that slowly evolve over time.
More images: Antelope Canyon, AZ, USA Stock Images | Desert and Outback Landscape Stock Images | Landscape Stock Photography
Ilya Genkin is a Sydney, Australia photographer whose subjects include the Pacific coast, Australian outback and deserts, rainforests, lakes and rivers, urban landscapes, night photography, and more.
Blog | About | Buy Images | Flickr | Twitter | Facebook | Google+ | 500px.com | LinkedIn | Email

Click here for Information & Pricing on larger paper, canvas, or metallic prints. Click here for License Information & Pricing for commercial and editorial uses. For complete purchase options, please contact Ilya Genkin directly.