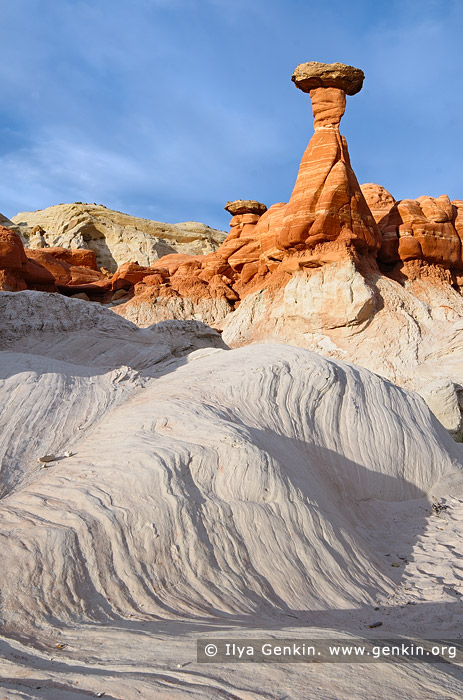 Toadstool Hoodoos, Paria Rimrocks, Grand Staircase-Escalante National Monument, Utah, USA
The Paria Rimrocks area of Grand Staircase-Escalante National Monument in Utah, USA is a unique landscape of white and orange banded Entrada Sandstone that erodes in some areas in the same manner as Bryce Canyon – almost as if it melts away – and in others it sculpts like it does in Arches National Park. One of the most iconic features of the Paria Rimrocks are the Toadstool Hoodoos, Entrada Sandstone hoodoos often capped by slabs of the Dakota Formation. As the Entrada Sandstobe erodes from below the Dakota Formation, small pieces of Dakota slide down and lodge atop areas of Entrada that withstand the erosive forces and form the hoodoos.
More images: Paria Rimrocks Toadstool Hoodoos, Utah, USA Stock Images | Desert and Outback Landscape Stock Images | Landscape Stock Photography
Ilya Genkin is a Sydney, Australia photographer whose subjects include the Pacific coast, Australian outback and deserts, rainforests, lakes and rivers, urban landscapes, night photography, and more.
Blog | About | Buy Images | Flickr | Twitter | Facebook | Google+ | 500px.com | LinkedIn | Email

Click here for Information & Pricing on larger paper, canvas, or metallic prints. Click here for License Information & Pricing for commercial and editorial uses. For complete purchase options, please contact Ilya Genkin directly.