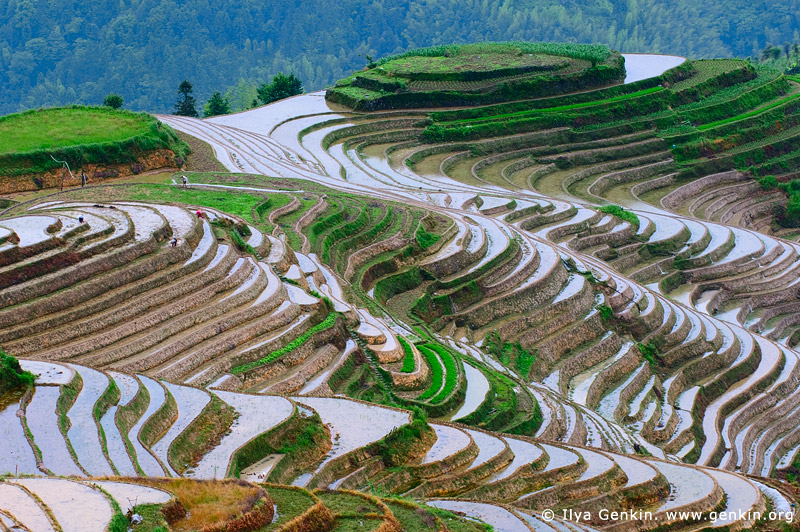 Dragon's Backbone Rice Terraces, Longji, Longsheng, Guangxi, China
The Longji Rice Terraces or Dragon's Backbone Rice Terrace Fields is a beautiful natural picture. The linked together rice terraces vary from season to season. In spring, the water is irrigated into the fields and the terraces look like great chains or ribbons hung on the hillsides. When the onset of summer, green waves rush continuously down the mountainside from the heaven. The theme of autumn is the harvest, with the mountainside decorated with the gold of ripened millet. Coming into winter, the whole mountain will be covered with white snow, just like dragons playing with water.
More images: Longsheng (Longji) Rice Terraces, China Stock Images | Country and Rural Landscape Stock Images | Landscape Stock Photography
Ilya Genkin is a Sydney, Australia photographer whose subjects include the Pacific coast, Australian outback and deserts, rainforests, lakes and rivers, urban landscapes, night photography, and more.
Blog | About | Buy Images | Flickr | Twitter | Facebook | Google+ | 500px.com | LinkedIn | Email

Click here for Information & Pricing on larger paper, canvas, or metallic prints. Click here for License Information & Pricing for commercial and editorial uses. For complete purchase options, please contact Ilya Genkin directly.