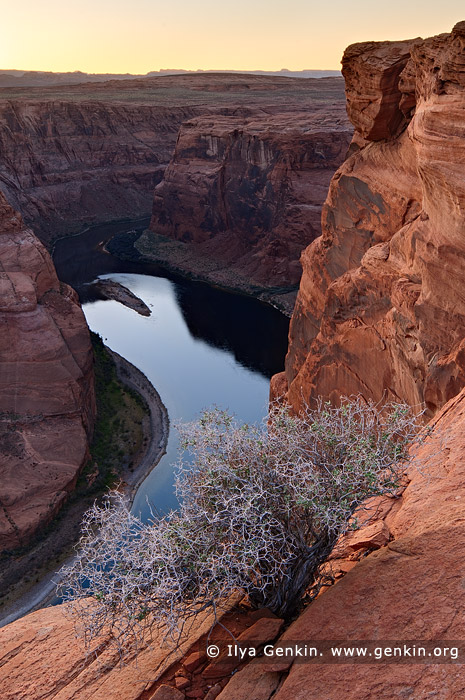 Sunset at Horseshoe Bend, Page, Arizona, USA
Northern Arizona and southern Utah are abundant in scenic landscapes. Strong winds carrying fine desert sand and the mighty Colorado river erode the rocks in the region to create exquisite shapes and patterns. The region is popularly known as the Grand Circle and encompasses more than a dozen State and National Parks including Grand Canyon, Bryce Canyon, Antelope Canyon, Arches National Park and Canyonlands National Park. Among them is a peculiar geological formation – the Horseshoe Bend.
Horseshoe Bend is the name for a horseshoe-shaped meander of the Colorado River located near the town of Page, Arizona, in the United States. The bend is locally known as "King Bend". It is located five miles (8.7 km) downstream from the Glen Canyon Dam and Lake Powell within Glen Canyon National Recreation Area, about four miles or 6 km southwest of Page. Accessible via half a mile (0.8 km) hike from U.S. Route 89, Horseshoe Bend can be viewed from the steep cliff above. The overlook is 4,200 feet above sea level and the Colorado River is at 3,200 feet above sea level making it a breathtaking 1,000 foot drop. A sweeping curve of the Horseshoe Bend in the Colorado River below the Lake Powell dam near Page, Arizona is a majestic landscape scene full of orange, red rocky textures and a true sense of being on the edge.
More images: Horseshoe Bend, AZ, USA Stock Images | Lakes, Rivers and Waterways Landscape Stock Images | Landscape Stock Photography
Ilya Genkin is a Sydney, Australia photographer whose subjects include the Pacific coast, Australian outback and deserts, rainforests, lakes and rivers, urban landscapes, night photography, and more.
Blog | About | Buy Images | Flickr | Twitter | Facebook | Google+ | 500px.com | LinkedIn | Email

Click here for Information & Pricing on larger paper, canvas, or metallic prints. Click here for License Information & Pricing for commercial and editorial uses. For complete purchase options, please contact Ilya Genkin directly.