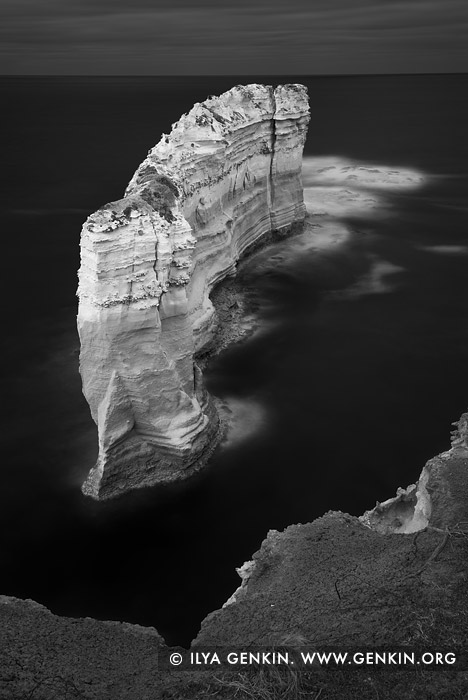 The Razorback in Black and White, The Twelve Apostles, Great Ocean Road, Port Campbell National Park, Victoria, Australia
Finally I'm back online. I had two really busy months with non-photography related stuff. Also had to move my site from really faulty DreamHost to probably the most reliable hosting platform – Amazon AWS. Replaced ProPhoto2 theme for WordPress with another premium theme as I've decided not to upgrade to ProPhoto4. Not quite happy with the design yet, but still working on it. Spent lovely week in Los Angeles, San Diego and Disneyland. Finished with version 2.1 of my Long Exposure Calculators. It has been featured on Light Stalking as one of 5 amazing apps that every photographer should have. Reading books, studying masters, thinking and developing myself etc. Currently I'm working on a few personal projects and as the result you will more some really unusual photos from me. More and more black and white photos, minimalistic and moody images. And I hope you like them. So stay tuned!
More images: The Twelve Apostles Stock Images | Beaches, Oceans and Seascapes Stock Images | Landscape Stock Photography
Ilya Genkin is a Sydney, Australia photographer whose subjects include the Pacific coast, Australian outback and deserts, rainforests, lakes and rivers, urban landscapes, night photography, and more.
Blog | About | Buy Images | Flickr | Twitter | Facebook | Google+ | 500px.com | LinkedIn | Email

Click here for Information & Pricing on larger paper, canvas, or metallic prints. Click here for License Information & Pricing for commercial and editorial uses. For complete purchase options, please contact Ilya Genkin directly.