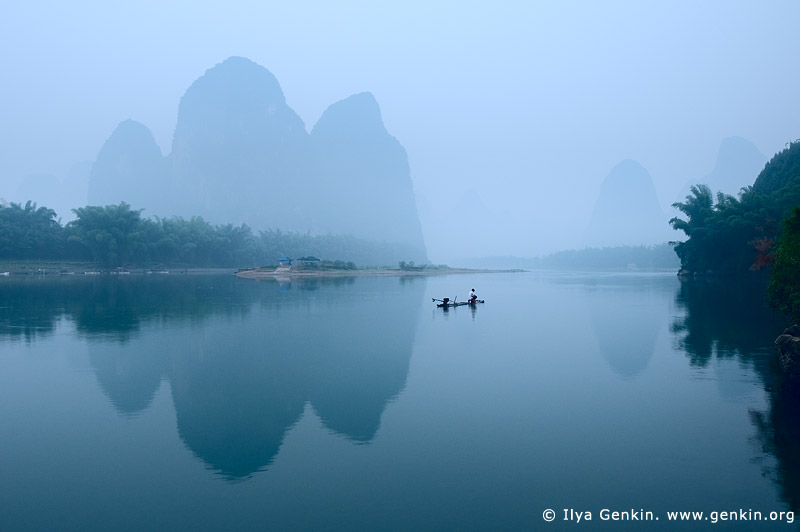 Guilin region in China has long been renowned for its unique scenery and one of the best-known tourist destinations in China. There are many scenic places along the Li jiang river (Li River) including a scene in Xingping Village which is printed on the back of 20 Yuan banknotes. The primary image on the reverse side of the note is a view of a fisherman on his bamboo raft floating down the Li River through the spectacular karst hills of Guilin region. The beautiful scenery here is a common subject of Chinese paintings as well as the inspiration for poetry.
I was shooting karst hills with their reflections in the calm river very early in the morning and complaining to my companion that there were not boats there. But suddenly we saw a boat with a fisherman behind us who was very slowly drifting along the river. Bingo! Real luck! Now we just had to wait. Double-checked the exposure. After a couple of minutes the guy arrived into our frames. We pressed the shutters buttons. Done. And the guy started moving off the scene. Didn't expect a good shot as the morning was quite foggy but you never know where you can find something and where you lose something.
And here is the 20 Yuan bank note for reference:

More images: Karst Peaks at Yangshuo Images Gallery | Lakes, Rivers and Waterways Landscapes Stock Images | Landscape Stock Photography.
Ilya Genkin is a Sydney, Australia photographer whose subjects include the Pacific coast, Australian outback and deserts, rainforests, lakes and rivers, urban landscapes, night photography, and more.
Blog | About | Buy Images | Flickr | Twitter | Facebook | Google+ | 500px.com | LinkedIn | Email

Click here for Information & Pricing on larger paper, canvas, or metallic prints. Click here for License Information & Pricing for commercial and editorial uses. For complete purchase options, please contact Ilya Genkin directly.