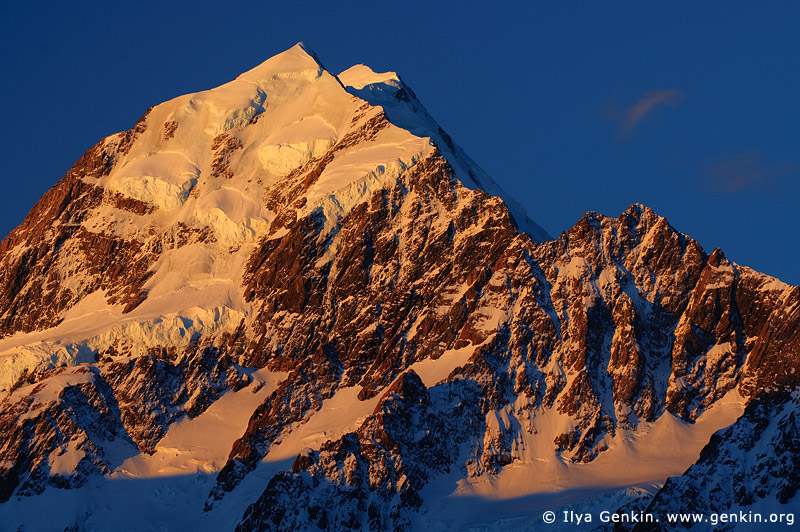 I'm glad I took two tripods on my trip to New Zealand so I was able to shoot at sunset with two cameras with different lenses – wide angle and telephoto. Laziness is definitely a bad character trait for a photographer.
Aoraki/Mt Cook is the highest mountain in New Zealand, reaching a height of 3,754 metres (12,316 ft). It lies in the Southern Alps, the mountain range which runs the length of the South Island. A popular tourist destination, it is also a favourite challenge for mountain climbers. Aoraki/Mount Cook consists of three summits lying slightly south and east of the main divide, the Low Peak, Middle Peak and High Peak, with the Tasman Glacier to the east and the Hooker Glacier to the west.
More images: Aoraki/Mount Cook Stock Images | Alpine and Mountain Landscapes Stock Images | Landscape Stock Photography.
Ilya Genkin is a Sydney, Australia photographer whose subjects include the Pacific coast, Australian outback and deserts, rainforests, lakes and rivers, urban landscapes, night photography, and more.
Blog | About | Buy Images | Flickr | Twitter | Facebook | Google+ | 500px.com | LinkedIn | Email

Click here for Information & Pricing on larger paper, canvas, or metallic prints. Click here for License Information & Pricing for commercial and editorial uses. For complete purchase options, please contact Ilya Genkin directly.