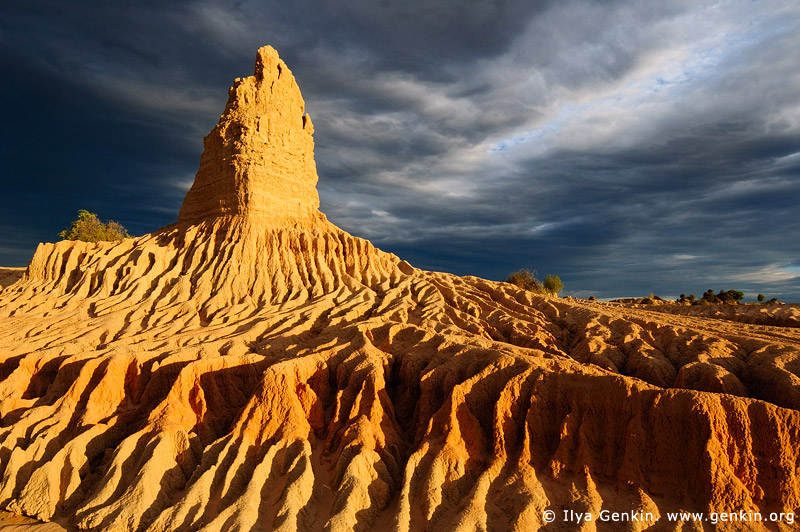 Right before Christmas I was looking at weather charts deciding where to go. The Mungo National Park was the only place without rain for Christmas and Boxing Day. I was there just one year ago but I decided to go there once again for a couple of days just to get a couple days without rain. I was driving all day and when we reach the Mungo National Park I was totally exhausted. But there were quite dramatic clouds in the sky so I went for sunset shooting even if I was really tired. It is very much true that the most beautiful light for photography happens at dynamic weather conditions – when weather is changing from bad to good or vice versa. Dramatic storm clouds were moving towards East and the low sunset Sun highlighted the walls of China (Lunette). It was truly magic golden hour. That was the gift from God I got for Christmas. The sunrise next day was quite nice as well. Unfortunately because the lunette is facing West there is nothing to shoot at sunrise. So I was lying in a tent watching the Sun slowly rising above horizon and highlighting clouds and landscape around. I spent two days in the Mungo National Park photographing sand formations but the next sunset was quite flat – no surprise as the clouds already moved away. However even the first sunset was worth driving 1100km.
More images: Mungo National Park Stock Images | Desert and Outback Landscapes Images Gallery | Landscapes Stock Photography.
Ilya Genkin is a Sydney, Australia photographer whose subjects include the Pacific coast, Australian outback and deserts, rainforests, lakes and rivers, urban landscapes, night photography, and more.
Blog | About | Buy Images | Flickr | Twitter | Facebook | Google+ | 500px.com | LinkedIn | Email

Click here for Information & Pricing on larger paper, canvas, or metallic prints. Click here for License Information & Pricing for commercial and editorial uses. For complete purchase options, please contact Ilya Genkin directly.