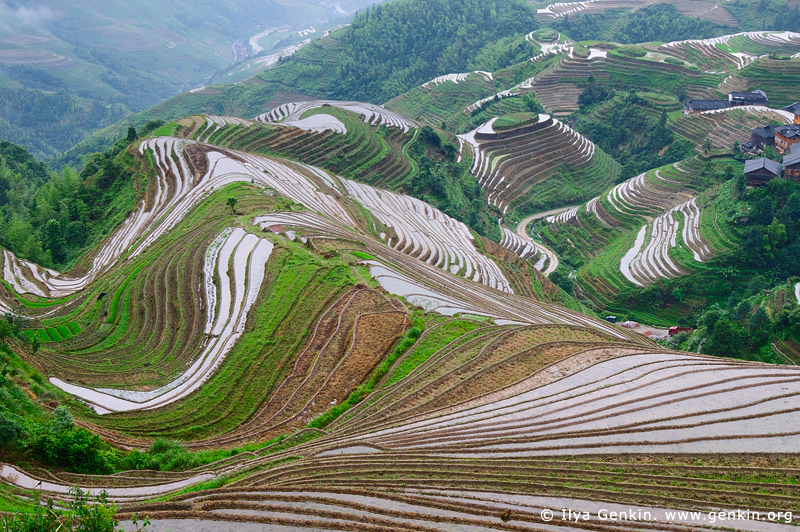 Longji (Dragon's Backbone) Rice Terraces, Longsheng, Guangxi, China
The Longji Terraced Rice Fields or Dragon's Backbone Rice Terraces received their name because the rice terraces resemble a dragon's scales, while the summit of the mountain range looks like the backbone of the dragon. Visitors standing on the top of the mountain can see the dragon's backbone twisting off into the distance. In a early morning when weather is fine (unfortunately not like on this photo
), the sunrise on the summit of Longji Rice Terraces is magnificent.
I did this trip to China with my very good friend and a highly professional landscape photographer Yevgen Timashov. If you haven't seen his images then I can suggest you to subscribe to his photography blog and see why I absolutely love his style and vision. He has a really good eye in photography and his photos always inspire me. I hope to make another trip to China with him in winter this time.
More images: Longsheng (Longji) Rice Terraces, China Stock Images | Country and Rural Landscape Stock Images | Landscape Stock Photography
Ilya Genkin is a Sydney, Australia photographer whose subjects include the Pacific coast, Australian outback and deserts, rainforests, lakes and rivers, urban landscapes, night photography, and more.
Blog | About | Buy Images | Flickr | Twitter | Facebook | Google+ | 500px.com | LinkedIn | Email

Click here for Information & Pricing on larger paper, canvas, or metallic prints. Click here for License Information & Pricing for commercial and editorial uses. For complete purchase options, please contact Ilya Genkin directly.