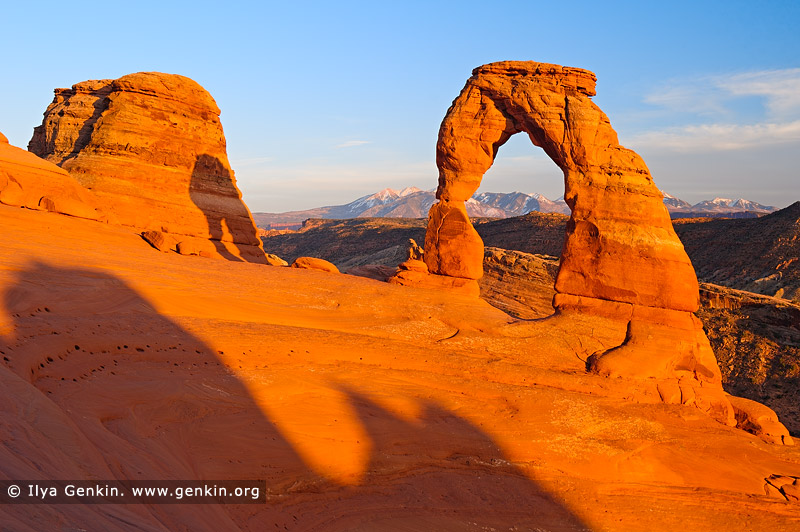 Delicate Arch at Sunset with background of La Sal Mountains, Arches National Park, Utah, USA
Delicate Arch is a 65-foot (20 m) tall freestanding natural arch located in Arches National Park near Moab, Utah. It is the most widely-recognized landmark in Arches National Park and is depicted on Utah license plates and on a postage stamp commemorating Utah's centennial anniversary of statehood in 1996. Delicate Arch in Arches National Park is one of Utah's most famous icons. You see images of it everywhere – on magazine covers, computer screen savers and license plates. But photos do not adequately convey the stunning beauty that hits you as you come over the ridge and see the arch in person for the first time-when you stand under it, the arch towering above your head, slickrock canyons falling away below you, the snow-covered La Sal Mountains in the distance. It is a spectacular sight.
Usually nature photographers are helping protecting the nature and have strong conservation ethic so I was really surprised to find that nature photographer Michael Fatali started a fire under the arch in September 2000 to demonstrate nighttime photography techniques to a group of amateur photographers. The fire discolored portions of the sandstone near the arch. Fatali was placed on probation and fined $10,900 in restitution to the National Park Service for the cost of cleanup efforts.
More images: Arches National Park, Utah, USA Stock Images | Desert and Outback Landscape Stock Images | Landscape Stock Photography
Ilya Genkin is a Sydney, Australia photographer whose subjects include the Pacific coast, Australian outback and deserts, rainforests, lakes and rivers, urban landscapes, night photography, and more.
Blog | About | Buy Images | Flickr | Twitter | Facebook | Google+ | 500px.com | LinkedIn | Email

Click here for Information & Pricing on larger paper, canvas, or metallic prints. Click here for License Information & Pricing for commercial and editorial uses. For complete purchase options, please contact Ilya Genkin directly.