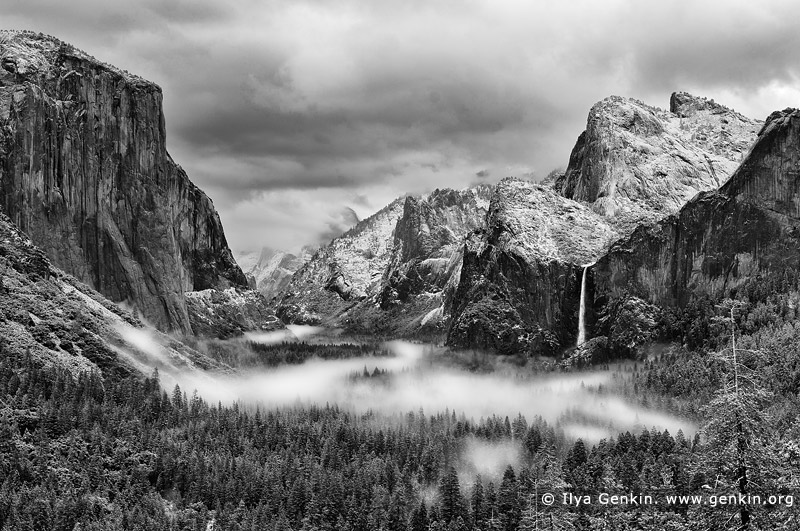 Yosemite Valley and Bridalveil Falls from Tunnel View, Yosemite National Park, California, USA
I have to thank Jim Goldstein for the idea of sharing a look at my favourite photos from the previous year. Every year, for six years now, Jim invites photographers to participate in his "Best Photos" project.
I've picked my Top 8+1 Favourite Images of 2012. Again, why eight (actually eight plus one) and not nine or ten? I've got more favourite photos from the last year but because usually I'm travelling a lot in October – December and therefore I've got quite a few photos haven't uploaded to my website yet and I still have to show them in the next couple of months. Also I need to say about "plus one" image – the very last photo in the list – Total Solar Eclipse in Cairns, Australia. This is definitely not my "best" image. Anyone can make it if you happen to be at the right place and at the right time. But I love this photo. I was waiting for that event for quite a while and I enjoyed every second of that moment. It was absolutely spectacular. Therefore I included it in the list as well. So please have a look at the small set and I hope you enjoy these photos as well.
PS. If you click on each photo you'll get to the bigger version.
McWay Falls after Sunset, Julia Pfeiffer Burns State Park, Big Sur, Monterey County, California, USA
Zabriskie Point, Death Valley, California, USA
Mesquite Flat Sand Dunes at Sunrise, Death Valley, California, USA
Delicate Arch at Sunset with background of La Sal Mountains, Arches National Park, Utah, USA
Mangroves at Tenby Point, Western Port Bay, Victoria (VIC), Australia
The Three Sisters, Echo Point, Katoomba, Blue Mountains, NSW, Australia
West Jetty at Tenby Point, Western Port Bay, Victoria (VIC), Australia
The Total Solar Eclipse 2012, Palm Cove, Cairns, Queensland, Australia
Ilya Genkin is a Sydney, Australia photographer whose subjects include the Pacific coast, Australian outback and deserts, rainforests, lakes and rivers, urban landscapes, night photography, and more.
Blog | About | Buy Images | Flickr | Twitter | Facebook | Google+ | 500px.com | LinkedIn | Email

Click here for Information & Pricing on larger paper, canvas, or metallic prints. Click here for License Information & Pricing for commercial and editorial uses. For complete purchase options, please contact Ilya Genkin directly.