The Pinnacles Desert, Nambung National Park, Western Australia.
Photographic Guide.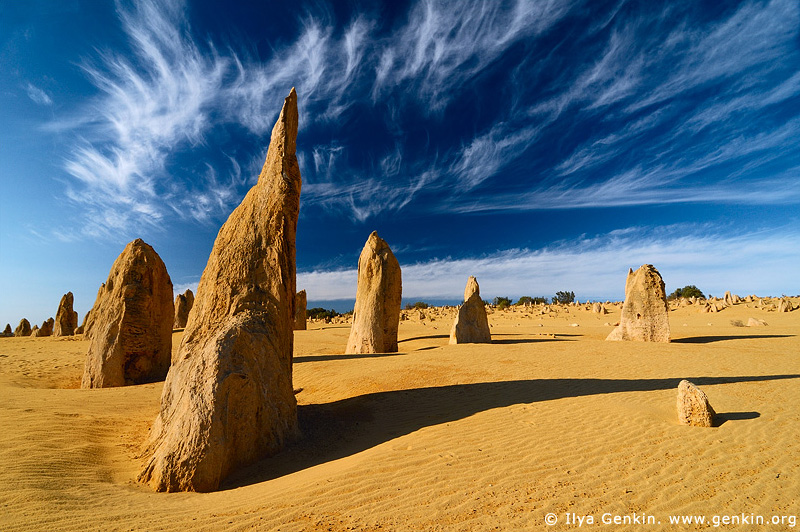 The Pinnacles are located in Nambung National Park, about 25 kilometres south from the town of Cervantes and about 250 kilometres north of Perth, Western Australia. The Pinnacles were sculptured by wind, rain, vegetation, sun and time for many thousands of years from limestone. These limestone formations reach four metres tall of sand of varying colours. It is a favourite subject for photographers.

About 250,000 tourists visit the Pinnacles Desert every year. The entrance to the park costs AUS$10.00 per car. The park opens from 9AM till 5PM, but you can stay longer to take some sunset or night shots. Or you can arrive at night to capture sunrise and pay later at daytime. But bear in mind that camping is not permitted in the park.





You can take a scenic loop drive (well maintained and in a good condition but for light vehicles only) of approximately four kilometres from the Pinnacles car park. If you are driving a rented car make sure that your insurance permits your vehicle to be driven on unsealed roads. Heavy or long vehicles should remain in the car park in about 100 metes from the Pinnacles area. Vehicles must stay to defined tracks and parking bays.

The Nambung National Park features a variety of flora and fauna. Most animals in the park are nocturnal, but emus, grey western kangaroos, wallabies, lizards and parrots can also be seen during the daytime, more commonly in the evening or early morning.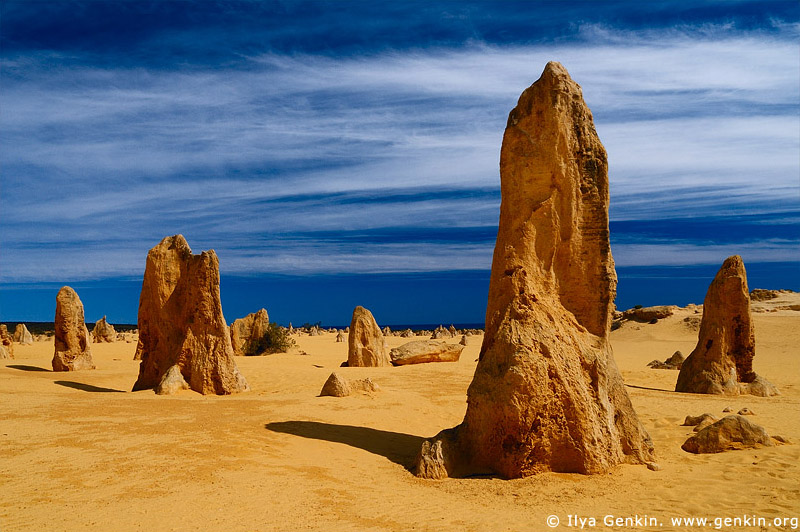 The best season to see the Pinnacles is spring from August to October, as the days are mild and wildflowers start to bloom. The Pinnacle formations are best photographed in the early morning or late afternoon as the play of light brings out the colours and the extended shadows of the formations delivers a contrast that brings out their features. However they are spectacular all the time except at very dark moonless nights or during bad rainy and cloudy days. Using polarizer filter on you camera and low level shooting point you can get excellent results almost during entire day.

Drive the scenic drive a few times and look for good spots for day, morning, evening and night shots. There are parking bays along the track so you can stop and look around. Sometimes you need to walk well off the track to get interesting viewpoint.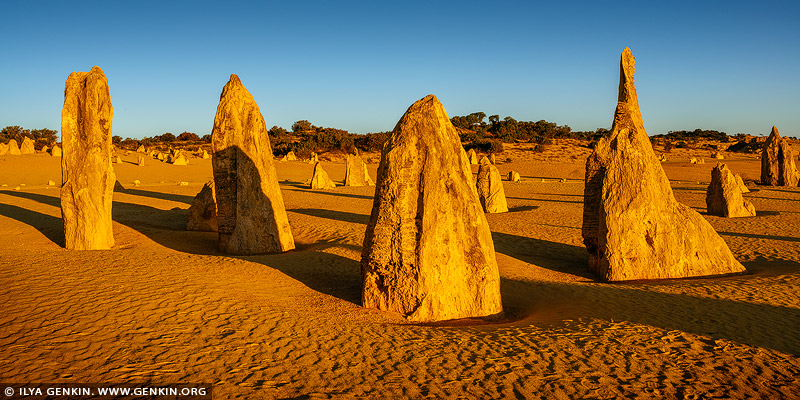 Be prepared that some elevated points are well occupied at sunset by tourists watching the Sun sinking in the Indian Ocean. So if you want to capture sunset then have a few spots in mind that you can relocate to in case of emergency.

If there is the Moon during night and you have time then try to make some night shots. The large distance from big cities minimises light pollution and the night sky there is quite clear and dark.

Equipment for daylight photography
Camera.
Wide-angle lens with hood (to eliminate glare).
Polarizer filter to emphasise colors and darken the sky.
Lens cleaning cloths and dust blower as there are a lot of sand there.
Equipment for nigh photography (in addition to the daylight one)
Sturdy tripod and tripod head.
Camera remote/cable control.
Extra camera battery as the long exposures drain batteries very quickly.
Bubble level to level the horizon.
Small headlamp or torch to illuminate camera dials and find something in your backpack.
A strong flashlight to illuminate foreground subject so that you can compose the shot and/or focus properly.
Food (snacks like muesli bar and small milk).
Warm clothes as it could be quite cold in the desert at night.
Something to keep you occupied in the dark with absolutely no light.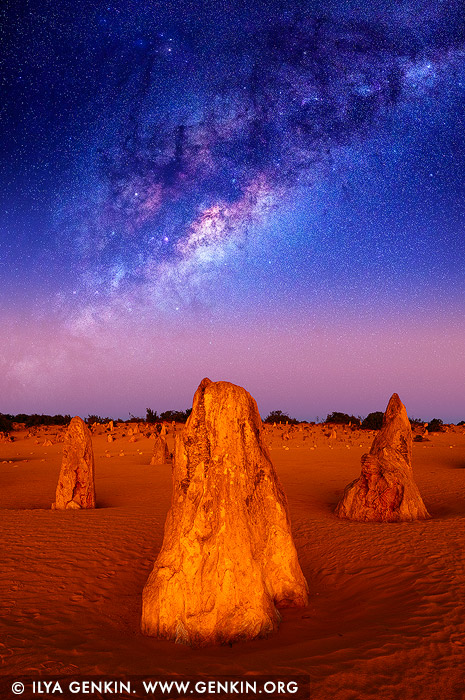 Don't forget to stop and shoot Emu Downs Wind Farm and stromatolites (fossil microorganisms) colony on lake Thetis. There is also a very nice Thirsty Point lookout in Cervantes. It is situated at the end of Seville Street and offers great fishing and swimming activities. Thirsty Point lookout features crystal clear water and white sand beaches. The lookout offers spectacular views of Ronsard Bay, Hansen Bay, Cervantes Islands and stunning sunsets over the Indian Ocean.

The Pinnacles Desert on Wikipedia
The Pinnacles Desert on Google Maps
Custom map with photographic spots and parking bays for The Pinnacles Desert, Nambung National Park, Western Australia
More photos of The Pinnacles, Nambung National Park, WA in my gallery.

Hope it will help you to make good photos!

Bookmark/Share this page.